If you have a lot or piece of land that you want to build on or upgrade, you will need to remove greenery and unwanted trees to make room. Our Spring Hill tree specialists at Volunteer Tree Company have the knowledge, prowess, training, and tools needed to clear your lot at a pocket-friendly and affordable cost safely. We want to help you create room to enjoy your lot, and it is our priority that your property is handled with the utmost care. Furthermore, working with our experts comes with a lot of benefits which are as discussed below.
Lot clearing services in Spring Hill, TN
When your wooded and unimproved property needs clearing, turn to Voluntary Tree Business! Clients depend on Volunteer Tree Service when they need their lots cleared for safety concerns, provide a clean, healthy, and uniform look to their property, or prepare for new construction.
Part of what makes our company remarkable is our twofold commitment to high-quality customer service and professional expertise. Our Spring Hill terrain land clearing business is efficient, effective, honest, and each independently owned location offers the fantastic results you desire. Volunteer Tree brush control and land clearing specialists can erase any visible trace of a tree, twig, or branch down to the ground on your overgrown property. Contact our Services at 931-637-5487 for professional lot clearing services in Spring Hill, TN, and surrounding areas.
Why hire our land clearing services?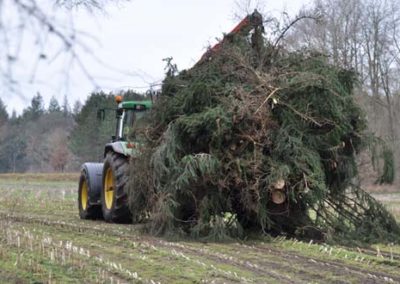 Before starting a construction project, it is fundamental that your terrain is cleared and safely prepared. Clearing your property of stumps, trees, or shrubs is not simply hacking away at your plants until they are completely gone. Terrain land clearing experts can remove dead trees, grind down stumps, or uproot your plants with minimal effect or damage to your lot.
Depending on the type of greenery growing on your property, you may have contemplated solely clearing it out. Unfortunately, terrain land clearing projects can be dangerous if you do not have the appropriate tools or training. As such, it is integral you trust our licensed, bonded, and insured Spring Hill tree service staff for an excellent job.
When taking a brush control or land clearing job of any size, we prioritize your safety. Clients love how we get the job done promptly and leave behind no unwanted brush, stumps, shrubs, roots, or trees. We are popularly known for our thorough preparation, practiced techniques, and state-of-the-art equipment.
With years of experience in the terrain land clearing business, our Spring Hill specialists are dedicated to doing an excellent job. Contact us to request an estimate.
Merits of hiring professionals for your land clearing project
The land is a significant investment project that necessitates maintenance to keep it in good condition. Hiring contractors who offer brush control and land clearing services can benefit you immensely if you want to clear your backyard or tidy up land for construction. We can help you prevent erosion and erase unwanted greenery in a hassle-free manner, making it ready for personal use and enhancing your property's value if you would wish to sell. Some of the benefits of hiring our Spring Hill professionals for terrain land clearing services include:
· The job will be done quickly.
If you opt to do it solely, it may consume a lot of time to remove all the unwanted stumps, more brush, plants, mulch, and trees on your property. Our tree removal and land clearing business have the expertise, skills, and resources to do a great job quickly and within a deadline. Hence, it is essential to hire professionals to have your woods cleared and endure less mess on your property.
· More efficiency.
With the knowledge, skills, and experience our terrain land clearing specialists have, rest assured the job will be efficiently done, making a massive difference in your property's look. Whether you want woods cleared on your hunting lane or an erosion-free land clearing service, feel free to contact our experts.
· Get the job done for fair rates.
We ensure the brush control and terrain land clearing project are managed according to your expectations. Hiring our contractors for your land clearing project will give you the desired results at the right price, benefiting you over time.
· Make your property safer.
If your property is covered in different vegetation, it is difficult to spot any potential threats such as snakes and insects lurking within. Furthermore, improper removal of stumps and trees in your yard can accelerate the likelihood of severe injuries and damage your tools. Allowing our experts to manage and clear the land will make your property safer, giving you peace of mind. Additionally, you will spot any dangers and deal with them immediately.
· Deal with all types of materials.
Our experienced contractors can handle any situation as far as terrain land clearing is concerned. We have the right tools and equipment for cutting stumps as possibly close to the ground, removing brush, and disposing of waste appropriately.
Why not start enjoying the perks that come with hiring our TN land clearing professionals? Contact our Spring Hill terrain land clearing business to request a free estimate regardless of your location. Enjoy a healthy walk around your property line by enlisting our land clearing and brush control services.
We provide professional lot clearing services in Spring Hill, TN.
Volunteer Tree Company is Spring Hill's leader in environmentally-friendly land clearing and brush management services. We provide terrain land clearing, tree removal, brush control, forestry mulching, and stumps grinding services for residential and commercial properties and land development projects – all acre scales and sizes.
Adhering to a systematic process, we warranty proper terrain land clearing and forestry mulching techniques that involve:
Surveying the building site entirely
Brush clearing and removal
Felling the trees and vegetation safely
Complete stump grinding
Grading the land
Brush control
Chipping woods and disposing of them appropriately
Preserving trees, if necessary to warranty they are healthy
We will ascertain that your land is comprehensively and time-efficiently cleared. We have the necessary equipment and tools and an enthusiastic and dedicated team of professionals to do a terrific job and grant your existing home just a better view.
Contact Volunteer Tree Company land clearing services.
We are a family-owned business and Spring Hill's leader in providing stumps freeloading, tree removal, brush control, and forestry mulching services to customers in Spring Hill, TN, and the following areas: Green Hill, Mount Juliet, White House, Columbia, Gallatin, and Middle, TN. Our land clearing business takes great pride in precision, efficiency, and safety. Whether you need routine forestry mulching, stump removal, brush control, or tree services, you can count on our team of experts to provide safe, professional tree services, irrespective of your location. Schedule free on-premises consultation by calling our brush control land clearing business at 931-637-5487.